What is the purpose of "copying" a work of art? Franklin Enspruch phrases it like this in a review of Wendy Artin's series of watercolors of the Elgin Marbles: "She is at once paying the sculptures due homage, studying them for artistic clues, and using them to reach upward in ambition and scale."….
Somehow, in entering in to someone else's creation, one often emerges at the other end with a clearer, renewed sense of voice and direction. One finds something of one's own story by participating in someone else's.
This little Annunciation is one panel from the Maesta' (or "Majesty", for the Virgin Enthroned in Majesty) altarpiece by Duccio di Buoninsegna, a Sienese painter of the 14th century. The central sections of the front and the back are on view at the Museo dell'Opera del Duomo in Siena, Italy. The top (pinnacles) and bottom sections (predella) have been scattered to museums across the world. The photo below is a probable reconstruction of the front of the altarpiece. The Annunciation panel, which you can see at the top left side of the front, is now part of the collection of the National Gallery in London.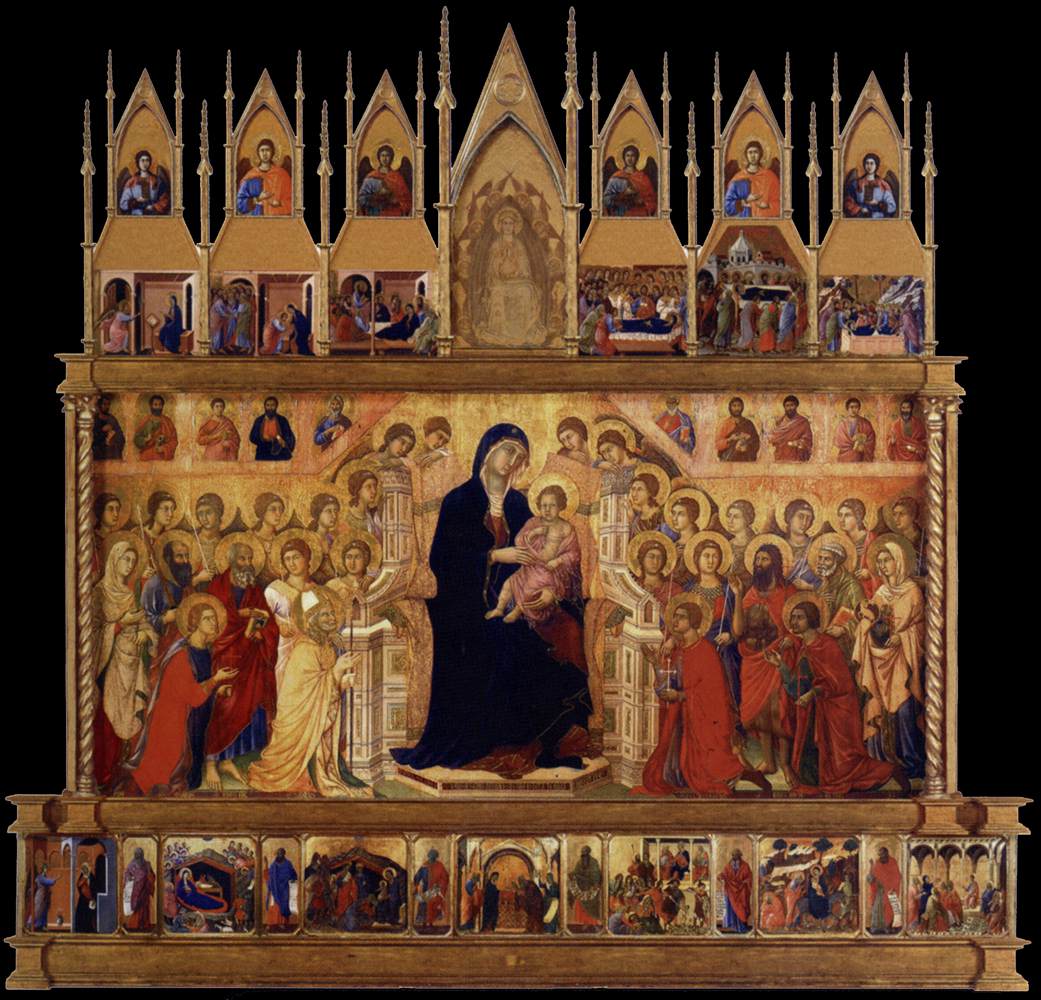 Duccio di Buoninsegna began a transitional phase from the iconic Byzantine style of painting towards a more Classical understanding of space and form, a foretaste of the Italian Renaissance which would flourish a century later. His figures begin to inhabit their space with a solidity and weight that was often not present in Byzantine icons.
This work of art is truly majestic in both scale and ambition. My experience of the altarpiece when I first visited Siena was one of my first experiences of experiencing the power of a Biblical narrative visually. I had never seen such a beautiful representation of the story of the Passion, and I had never tried to piece together the four gospel narratives into a single sequence, as Duccio does in the back panel. The Passion narrative begins on the lower left with the Entry into Jerusalem and ends on the top right with the disciples on the road to Emmaus.