Join me on Instagram Live at 11am Eastern time on Friday, Oct. 1 2021 as I release my new collection!
Monotypes and the Creative Process
Monotype is one of my favorite processes for works on paper. My new collection of architecture monotypes represents archways filled with light. When I fall in love with a composition, I enjoy exploring it in a variety of mediums.
Often, when struggling with the painting process, I step away from color. Instead I engage the image in black and white, either through drawing or printmaking. Working monochromatically allows me to work out problems of composition or tonality without the complexities of color. I circle around whatever problem I am struggling with in the painting, searching in a different medium, coming through the back door to find an answer.
I studied printmaking in a variety of settings over the years, usually intaglio printing (engraving or etching). These processes allow the artist to create multiple "copies" of a single image which has been permanently cut into or etched with acid into a "plate" made of either metal or plexiglass.
I also experimented some with monoprint and monotype in these classes. Monotype is a traditional fine art printmaking process in which only a single impression is made, no multiples. It is a process which I really enjoy for its painterly qualities. A monotype is a one-of-a-kind image which is created on the surface of the plate (no etching or carving). The image is brushed, rolled or wiped on to the surface and then run through the press.
Practical Advantages of Monotype
Although I enjoyed the process of printmaking, the etching process requires a lot of studio equipment to execute. One needs a hot plate to melt the hard ground wax onto the surface of the metal, etching acid to eat away at the exposed metal, and finally the heavy etching presses weighing hundreds or thousands of pounds. And so after finishing graduate school I only had intermittent access to this equipment.
I have often gone several years without creating prints, but I always return to it. Reflecting on how I have arrived at this new collection, I now realize that it has taken many years of research and practice to arrive at this point where I am able to create monotypes in my home studio whenever I desire.
I spent a lot of time researching how to create a non-toxic, space-saving monotype process. Spurred on by a desire to retreat from oil painting during my pregnancies, I enlisted the help of artist friends to brainstorm.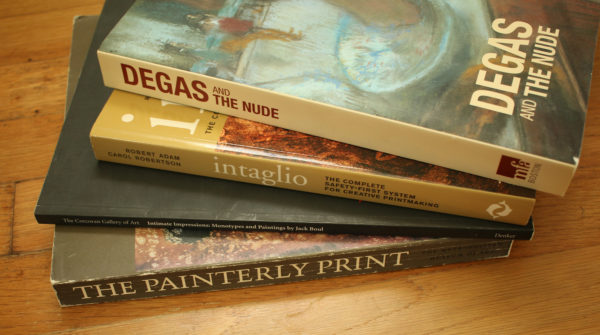 I was given a copy of Intaglio which details how to make the printmaking process less toxic. The book introduced me to Akua soy-based inks, which I now use. I spoke with artists in my studio building at Waltham Mills Artist Association about how I wanted to get back to printing, and a neighbor down the hall said she could lend me her small etching press, I just had to wheel it a few yards from her studio to mine.
Inspirations: Other Monotype Artists
Over the years, other artist friends introduced me to artists from whom I could gain inspiration for my images. In graduate school a fellow student introduced me to the work of Jack Boul, whose monotypes had been on exhibit at the Corcoran Gallery of Art in DC in 2000.
And then came the exhibit "Degas and the Nude" at the Museum of Fine Arts in the winter of 2011. The show included paintings, pastels, sculptures…. and monotypes. An entire room of small, black and white images of drama and mysterious beauty. All of the drama and surprise of printmaking… but with the simplicity of painting. No acids or resins or wax resists: just ink and a press.
I became pregnant just as the Degas exhibit was closing. Although I have developed a low-solvent oil painting process, I knew it was best to take a break from oil painting during pregnancy. It was the moment for monotype. I had a press I could borrow; I had researched a solvent-free monotype process; I could work small and sit, rather than stand, while I worked. Out of this period came my first monotypes dealing with architecture and figure.
Monotype Materials
Fast forward a few years and I had left the studio building (and my generous artist friend with the etching press) and am working in my basement at home. I had neither space nor cash for even a small etching press, but found myself returning to the desire to create monotypes.
I found a solution while attending an online workshop during the pandemic hosted by the Monotype Guild of New England. Carolyn Letvin had found a handpress made by a Canadian artist. With his permission she now has them produced and sells them.
Compact and light-weight, the GC Palmpress creates prints that look like they ran through a traditional etching press. Using soy-based Akua inks, I could make these in my basement studio without a full printmaking studio.
The "Subtractive" Nature of Monotype
The monotypes are "subtractive", meaning that I remove the material, rather than adding it, in order to create the image. In a pencil drawing you create the darkness by adding marks. With this process I roll the ink onto the plate and then wipe it away to create the light areas. By rolling out the ink like this I can achieve soft lines and dramatic light and dark contrast.
What had attracted me to the monotypes to begin with was the subtractive nature of the drawing. I wanted, in particular, to actively remove the darkness to create the light. Many years ago I had experimented with silverpoint on black gesso, and painting with acrylic on black paper. I was looking for the stark drama of dark and light, where the darkness must be fought against in order to create the image. This was a conscious theological choice. Those experiments were inadequate, but in monotype I found the process and the product I was looking for. I wanted to begin with darkness and wipe it away. A minimal, decisive act with an unknown conclusion. To me it is similar to creation, when out of darkness God created the light, and everything else out of that. And it is light which reveals.
Sign up to receive the shopping link when the new monotype collection is released!