Beginning Stages of the St Matthew's Cathedral Painting
I completed a colorful new St Matthew's Cathedral, Washington DC painting commission this past spring.  I wrote in an earlier blog post about the sketching process.   In those first stages I use small, quick drawings to collaborate with my collectors and capture their vision. Sometimes I make decisions with a collector via email, after they send me their photos. In this case, we had a conversation on Zoom where they shared some of their experiences from their wedding ceremony. I always enjoy getting to know my collectors!
Once I move to the canvas, I love the initial stages of the painting. First I sketch the composition quickly on to the canvas using line. On the blank canvas I use gestural lines to quickly carve out three-dimensional space.  Next, I add a thin layer of paint to create value (light and dark).
Finally I begin to add color. This process continues for months and months as I refine and fine-tune the color relationships in smaller and smaller increments.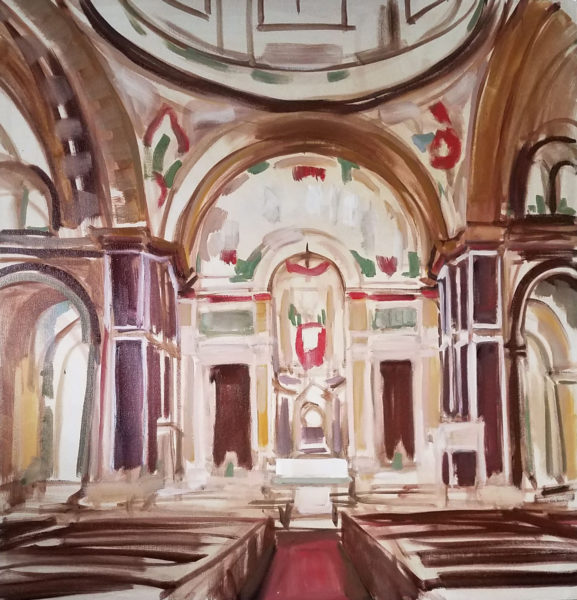 Challenges in the Process
Eventually I get to a point in the painting where 80% of the structure of the composition is there. It always surprises me how the bulk of the work on the painting often seems to be getting through that last 20% of the details.  The complex architectural space of St. Matthew's Cathedral was particularly challenging. For instance, a variety of materials (mosaics, marble, plaster, gilding, wood) cover Historic Saint Matthew's Cathedral in DC. How do I paint each element in a way that contributes to the whole painting? How do I communicate the shimmering array of textures and colors within this beautiful cathedral?
In addition, representing the imagery of the many religious artworks in the space was another challenge. What are my priorities? Conveying the content of the artwork inside the cathedral or the way the light travels? The balance of colors or the detail of the narrative of the mosaics? If  the light reflecting on the mosaic obscured the content, then which objective takes precedence?
In contrast to my more impressionistic paintings, in a commission I must stay true to the proportions of the actual space. To do this I must check and re-check the angles and perspective at every stage to achieve the necessary specificity.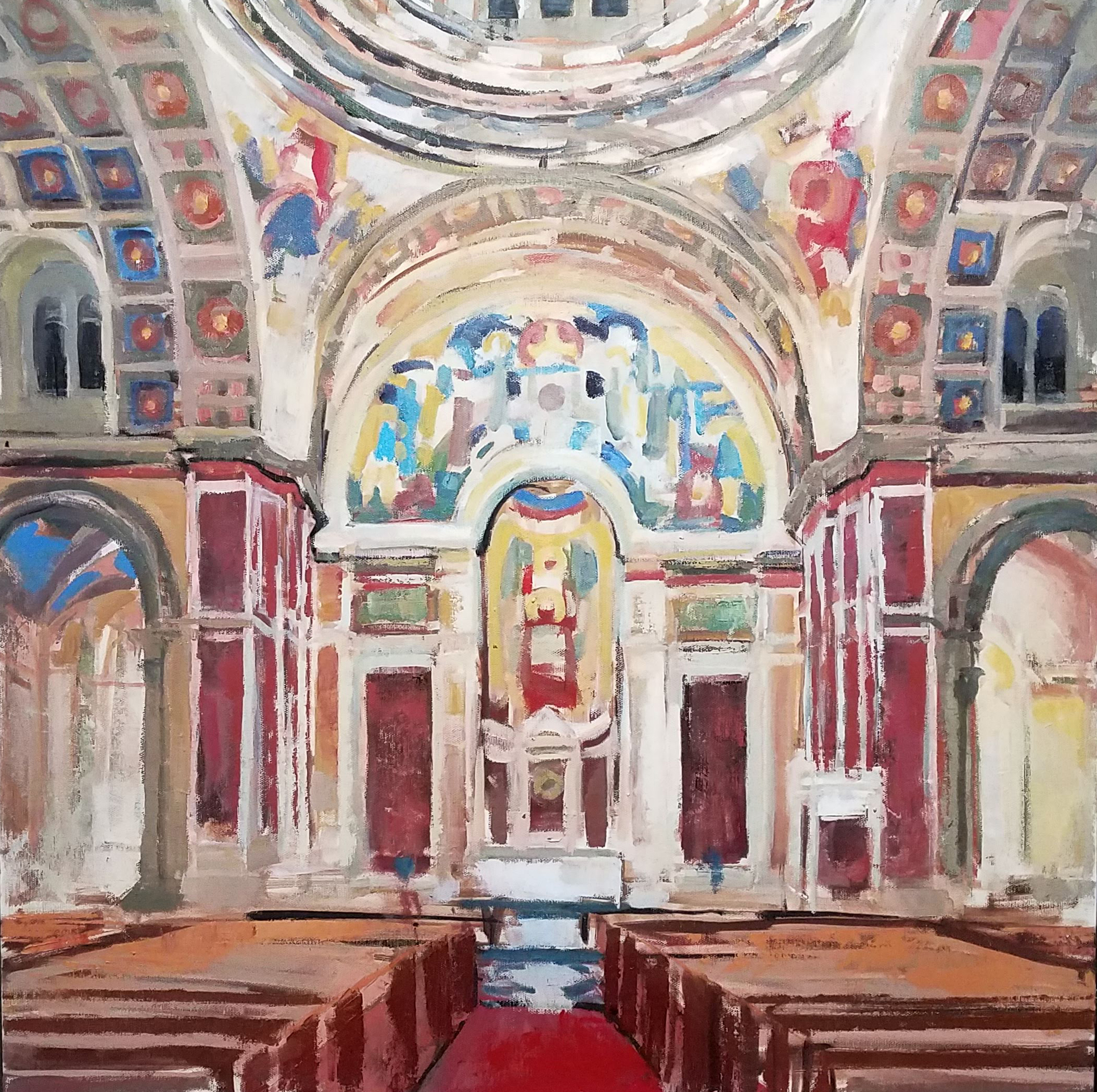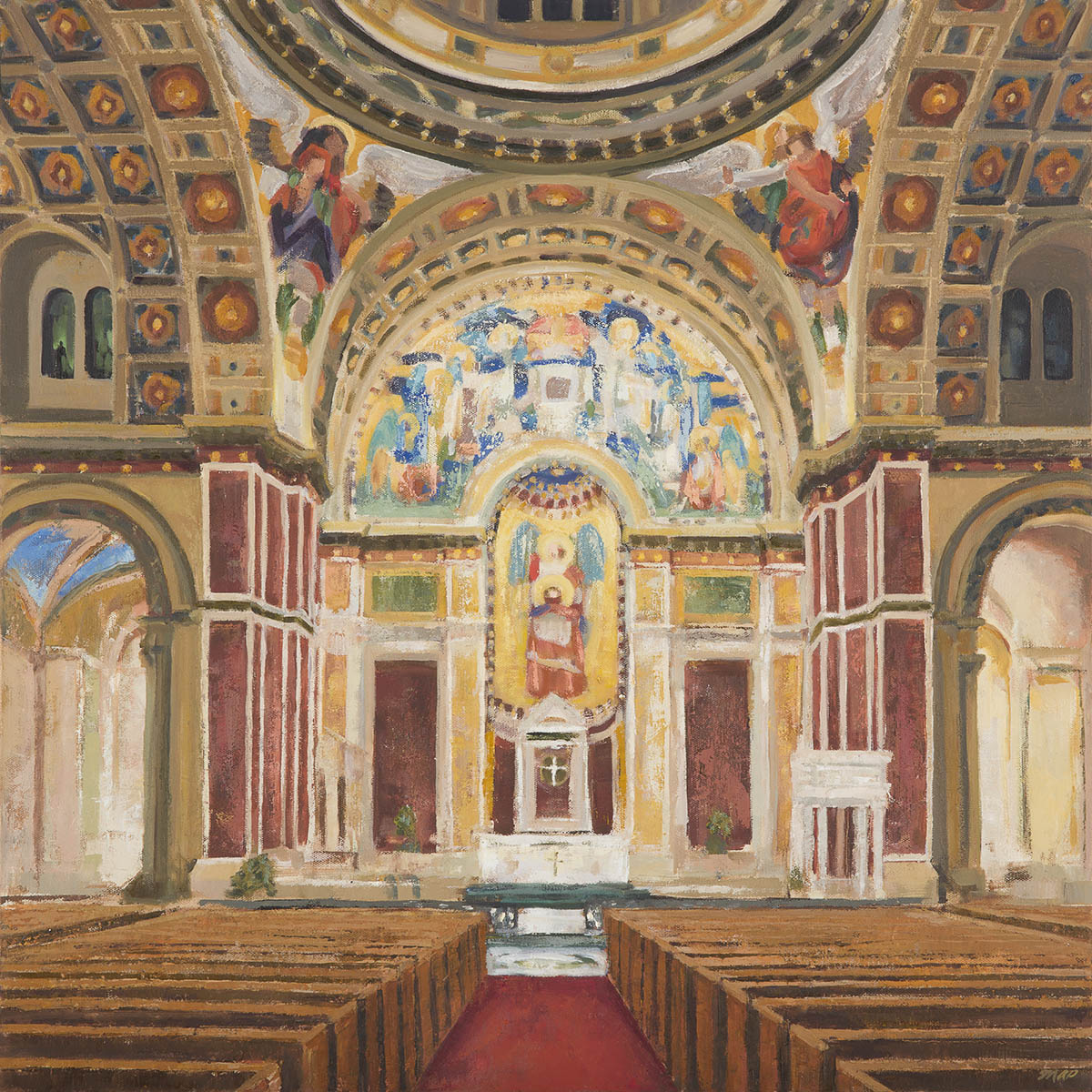 The couple is thrilled with this artwork created to celebrate the tenth anniversary of their marriage in the beautiful Cathedral of St. Matthew in DC. The painting celebrates the beginning of their life together AND will become a focal point in their home. Once it has received its hand-crafted frame from a family member who is a professional frame conservator, it will be a center piece layered with meaning and love. See more of my commissioned works and contact me to commission your own painting