The theme of the winter issue of Ruminate magazine was "Sound and Silence", and I was pleased that two of my prints and one of my paintings were chosen to as a visual representation of the theme.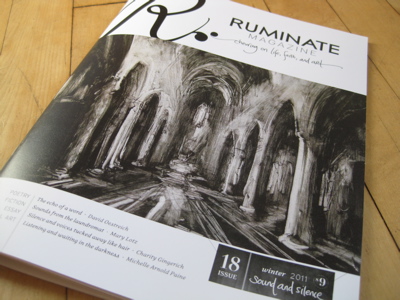 Sojourners Magazine's Julie Polter recently said Ruminate has "staked a claim in the publishing borderlands where grit and religious devotion, literary experimentation and spirituality, the quirky and the profound can meet and mingle." I found it to be a wonderful selection of prose, fiction, poetry and visual art, with a spare, uncrowded layout which is an invitation to contemplation and "chewing on life, faith and art". You can check out this issue and others at www.ruminatemagazine.org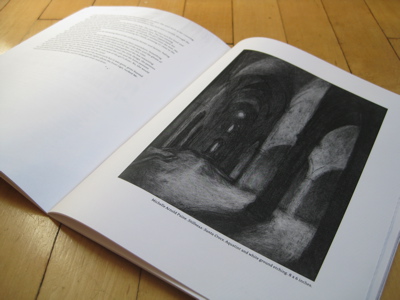 My series of church interiors are really a representation of "Sound and Silence". Many of my titles: "Waiting", "Stillness", "Listening" imply silence. These cavernous structures were built for crowds of people and throngs of religious activity. Though they now hold only shadows of those presences, for me they are still full of message and mystery, a place to refuge in the silence. These spaces are also an evocative metaphor for our own interior lives – that place where there is no longer thought, interest, or opinion, only listening and waiting in the darkness.
Perhaps T.S. Eliot says it best in his Four Quartets: 
…You are not here to verify,
Instruct yourself, or inform curiosity
Or carry report. You are here to kneel
Where prayer has been valid.
And prayer is more
Than an order of words…
"Prayer is more than an order of words…" Prayer is often silence – simply waiting in faith – or acting in faith, as in painting. I feel that painting is often a prayer – some request for divine presenc; a question to which I do not have an answer, but will continue to ask; a sound I cannot hear when I begin, but will wait for in the silence of the work.