I visited the Art Institute of Chicago on Thursday during my vacation for their Target-sponsored Free Thursday evenings. What a wonderful a gift to the people of Chicago city to offer free admission from 5-8pm once a week – there was a line to enter at 5:00 and the museum was packed with people all evening.
The new wing is huge, with the capacity to give their spectacular collection of 20th century art the viewing space it deserves. I spent my entire two and a half hour visit exploring the new wing – never even entering the older part of the museum!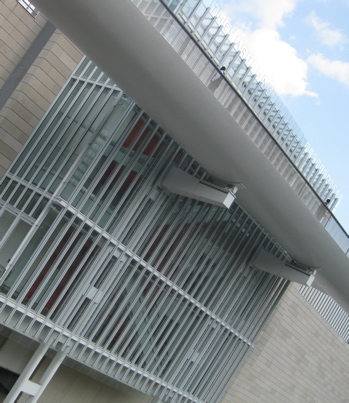 I brought my sketchbook, as I always do when I go to a museum. I may sketch anywhere from one to twenty paintings during a museum visit. Some may only be sketches of thirty seconds, some may take ten or fifteen minutes.  I draw so that I will remember what I am seeing. Even a short sketch of a few seconds embeds the viewing experience in me, and I am more likely to be able to remember and refer to the piece later.
My current portable sketchbook is a small (about 4″x5″) planner/diary from 2003 that I found when cleaning our apartment last summer. Several years ago I had seen a sketchbook of Pierre Bonnard's in an exhibition in which he had made notes on the weather and an occasional appointment in a planner (the week-at-a-glance sort), but every day had a small quick sketch filling the day's assigned lines. When I found this unused planner, I immediately decided to give it a try.
I was very glad to see several paintings by Balthus, a painter I was introduced to in graduate school and had not had a chance since to examine closely and in person.
 Balthus, Solitaire, Oil on canvas, 1943
This painting, Solitaire, is larger than I'd expected, at 63 1/2″ x 64 3/8″. I was particularly interested in Balthus' close attention to the negative shapes – the spaces between the arms, between the torso and the table, etc. These are shapes of air — where there is no object, but just as important as the "positive" shapes (the objects in the painting).
Stay tuned for more from my sketchbook!