Friday of the second week of our stay in Orvieto we spent a day in Rome, always an amazing experience. In the morning I went to the Villa Borghese museum with a small group of students to see the special Francis Bacon-Caravaggio exhibit.
The Villa Borghese was built by members of the Borghese family just outside the medieval city wall and surrounded by acres of gardens and fountains. It is filled with paintings and sculptures – the most popular of which are the Bernini sculptures of Apollo and Daphne, David, and Pluto and Proserpina. Gianlorenzo Bernini (1598 – 1680) had the ability to transform marble so as to appear light as a feather, soft as skin, and full of movement and action.
Francis Bacon and Caravaggio are a surprising and interesting juxtaposition. The curatorial statement encouraged the viewer to draw their own parallels, denying any direct liaison influence. Both painters deal with the human figure and human experience with a brutal sense of realism and total absence of idealism.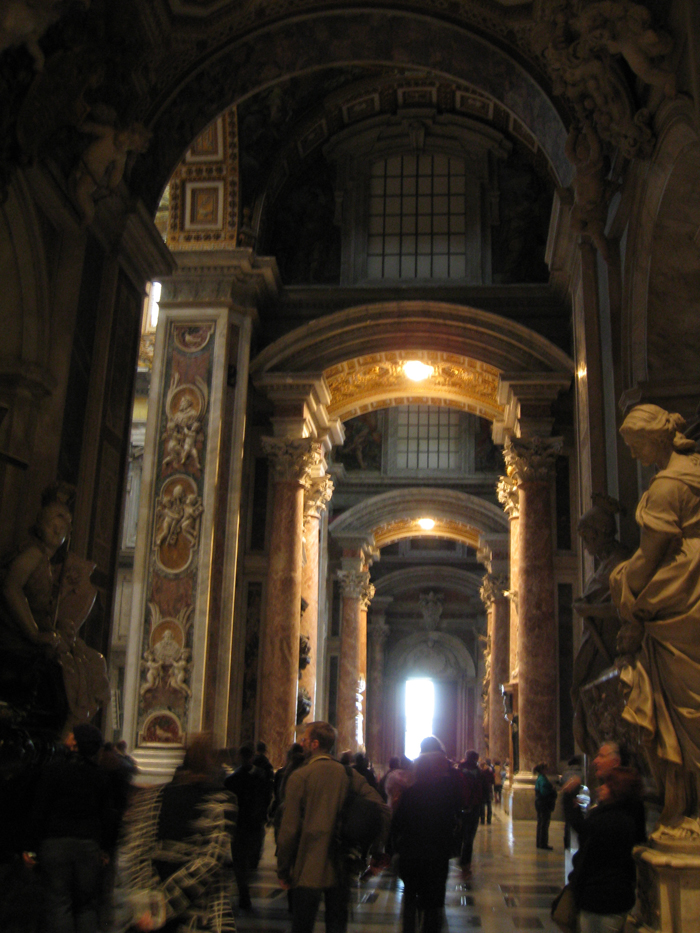 In the afternoon we made the pilgrimage to St. Peter's Basilica in Vatican City. We accidentally ended up in the line headed into the crypt first, before seeing the interior of the basilica. Around the periphery of the crypt are the tombs of the popes, as well as some European kings and queens, including the last Catholic monarchs of England. Most moving for us was to be so close to the tomb of St. Peter – the closest physical link we have ever had with the man Jesus, since Peter was his disciple, and here he was right before us.
In the interior of the basilica itself the Bernini theme from the morning continued, as the altar canopy (Il Baldicchino) shown above as well as the tabernacle in the apse were both designed by Bernini, in addition to the colonnade in St. Peter's Square itself.
I have been to St. Peter's Basilica close to a dozen times, but it is always an awe-inspiring experience, and always a pilgrimage, not just a tourist visit. I was particularly moved, as I had been in my last visit in 2006, by the tomb of John Paul II, who led the Catholic church into the third millennium and brought many of the changes of Vatican II to fruition throughout his pontificate. I know that I would not be Catholic if it were not for him. Rome is thrilling because of this close connection to history – both ancient and contemporary.