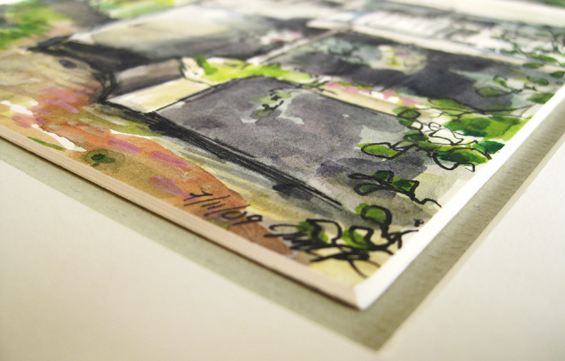 Protecting Works on Paper
Original artwork is an investment. It is important to know the proper methods of framing works on paper in order to conserve them for future generations. When I worked for a frame store I saw a lot of the  "How to" and "How NOT To" of framing. One-of-a-kind original art can never be replaced, so it deserves the very best treatment from creation to presentation.

What is Archival? 
First, "archival" means using materials and methods that will not harm or alter the artwork and that are completely reversible. You can use photo corners to set a photo in place on the backing – then you don't need to use any adhesive at all on the photo. However, photo corners won't work for all pieces of art. Therefore, if you are going to use tape, it should be acid-free or archival quality. The preferable adhesive is a natural cellulose-base (such as rice paste or wheat paste which activates with water). This means NO masking tape or scotch tape. 
What is "Acid-Free"?

What does acid-free mean when we see the label on paper? Acid occurs naturally in the lignin of wood pulp which makes up most kinds of paper. This acid will cause it to turn yellow and disintegrate over time. Using tape, matting, or backing which is not acid-free will damage an artwork, even if the artwork itself was made with archival materials. The best fine art papers and "museum-quality" matboard for framing, are made from cotton, a naturally acid-free material. Cotton papers and ragboard will last much longer than wood pulp products labeled  "acid-free" which have been processed to neutralize the acid. I use 100% cotton papers for all my watercolors and ink drawings. 
When framing works on paper, be sure to protect your art from both the back AND the front. Both the mat AND the backing should be acid-free. If it isn't, the acid can leech from the backing into the artwork, so backing your artwork with cardboard is NOT a good idea.
What is the purpose of the matte and glass in conserving Works on Paper?
Another important conservation purpose the mat serves is to separate it from the glass. Since glass condenses with changes in temperature, over time this condensation can damage the artwork.
If you really don't want to mat it? That's okay – just make sure that you have some sort of spacer in the frame to separate the artwork from the glass. Another good way to frame a work on paper without matting is to use clear acrylic/plexiglass in the frame instead of glass. Because Plexiglass is plastic, it doesn't condense the way glass does, and is safe to lay directly on top of your artwork. Whether you choose glass or acrylic for your glazing, look for UV protection. UV protective glazing acts like sunscreen for your artwork to prevent it from fading, which can occur even under artificial lights.
Whether you frame your own work as an artist or you take it to a professional framer, it is important to understand the basics of conservation so your works of art can be enjoyed for generations.
FURTHER RESOURCES:
For guidelines on preserving everything from videos to comic books: https://www.loc.gov/preservation/care/
For a more behind-the-scenes-explanation of framing materials, check out my video on IGTV.